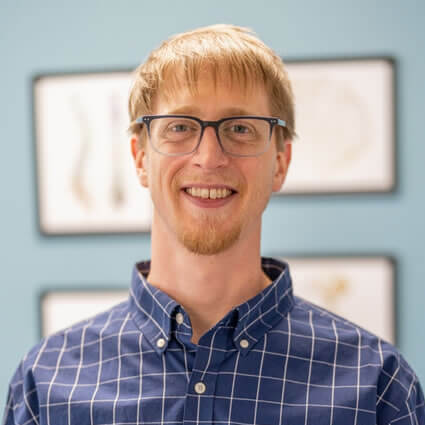 Meet Dr. Caleb Caudill
The path to becoming a chiropractor started when Dr. Caleb was an undergrad at Virginia Commonwealth University, studying Exercise Science. "I'd always been fascinated with how the body worked." Dr. Caleb also started getting into lifting and different exercise techniques, and remained intrigued by how the musculoskeletal moves and functions. He couldn't wait to learn more.
A Life-Changing Encounter
While attending VCU, Dr. Caleb met a local chiropractor presenting at one of his classes. This encounter sparked interest in chiropractic and led to the journey of becoming a chiropractor. Dr. Caleb was able to intern under this chiropractor, and learn firsthand from more than 40 actively practicing chiropractors while working toward his doctorate.
Chiropractic Education
After earning a BS in Exercise Science from VCU, Dr. Caleb earned his Doctor of Chiropractic from Life University in Marietta, GA. He is trained in multiple chiropractic techniques, including manual and instrument adjusting. His knowledge of various techniques helps Dr. Caleb provide care to individuals of all ages with acute or chronic conditions.
Outside the Practice
When he's not at Energy Matters Chiropractic Care, Dr. Caleb enjoys spending time with his wife, Nikki, their goofy Goldendoodle, Braum, and their loving cats. Dr. Caleb loves trying out new recipes while cooking, exploring different parks and trails with Nikki, playing multiplayer competitive games, and exploring the music of all genres and decades. He also likes to watch movies and get together with friends.

Dr. Caleb Caudill | (804) 464-5478